---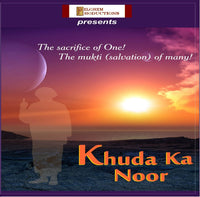 Khuda Ka Noor plucks at the strings of the heart, creating music which is filled with devotion and adoration. It is a glorious tribute to the attributes, teachings and qualities of the Guru. It portrays the unstinting love of the Guru, through inspiring and touching anecdotes and insights into the Masters life, narrated in the voice of the ultimate devotee Dada J. P. Vaswani! 
The sacrifice of One! 
The mukti (salvation) of many!